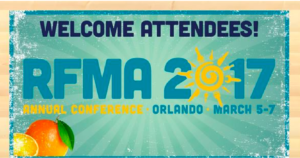 The RFMA 2017 Annual Conference was once again an incredibly valuable way to spend a few days.
With such a wealth of restaurant maintenance experience and expertise under one roof, it was easy to come away with new insights and ideas for improving operations.
The conference organizers always do a terrific job setting things up to encourage people to meet and chat with others. By its very nature, the restaurant business is social and interactive.
There is so much to gain from listening and learning to stories and strategies used around the country. Whether in one of the educational or speaker sessions, on the golf course or just chatting over dinner, the RMFA Conference affords restaurant maintenance professionals the opportunity to grow their person and professional network, as well as their business.