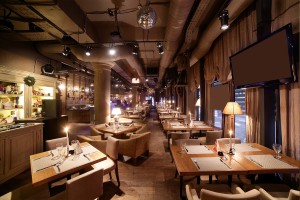 Compressors break. Leaks happen. Pipes burst.
To repair those issues requires a trained, skilled expert. But there are measure to take to reduce the likelihood of incurring such an issue, and such a cost. Along with the quality of the food and service, constant upkeep and restaurant maintenance is vital to running a successful business.
"You could have 200 people waiting to come in but if the A/C doesn't work, you can't open those front doors."
Theatre and concert goers buy a ticket with a certain level of reasonable expectation the show will go on seamlessly and be worth their time and money. The same holds true for those who go out to eat. Be it simply grabbing a sandwich or heading to an upscale establishment, the customer has chosen that place for their dining experience. But the people applauding, dancing in the aisles or posting photos of their food only get to see the finished product.
As restaurant owners and managers know, each meal served and each day at their place is a show. And their staff are the performers. But just as you may recall from your days in the school play, a lot of planning, practice and preparation behind the scenes goes into making sure the audience sees – and tastes – what they came for.
We have all been there when those 'Murphy's Law moments' hit. Whatever can go wrong, will go wrong. Usually at the least opportune time. Only when you are running a restaurant, these slipups will affect a lot of people.
As one owner said, "You could have 200 people waiting to come in but if the A/C doesn't work, you can't open those front doors."  Imagine how bad if it stopped working while they were already inside.
The boiler could breakdown or the refrigerator stop working and suddenly there is a room full of customers for whom you cannot cook or serve. Or at the peak of your busiest night the restrooms became clogged. It might cost a couple thousand dollars to have a plumber come out at the last minute, but what choice would you have?
For individual owners, keeping a restaurant maintenance professional on retainer is one way to get immediate help without breaking the budget. Or perhaps better still, have someone on staff whose responsibilities are to regularly clean and check how things are going. Someone whose daily job it is to clean the kitchen equipment, ensure the vents and systems are working properly, to double and triple check the lighting and heating systems.
In addition, a staff member will have considerably more familiarity with the ins and outs of your place. They will come to know every nook and cranny – along with the little tricks. Ever give your house keys to a friend only to have them call you, unable to figure out which way to turn it? You know just the correct angle and pressure, because you do this every day. As will your staffer know, much better than an outside company, what makes your restaurant tick.